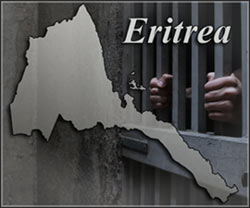 A 43-year-old Eritrean Christian imprisoned for his faith in Mitire Military Confinement Centre died on July 23 after authorities denied him medical treatment, bringing to three the number of detained Christians known to have died in the country this year, according to the Dutch branch of Open Doors. Yemane Kahasay Andom, a member of the Kale-Hiwot church in Mendefera, had reportedly endured brutal torture since he was detained 18 months ago and was suffering from a severe case of malaria. Two weeks prior to his death, he had been placed in solitary confinement in an underground cell for his refusal to sign a recantation form. Although the exact contents of the form have not been confirmed, most Christians interpret the signing of such a form as the denouncement of their Christian faith. He has reportedly been secretly buried in the camp.
Thank the Lord for the life and witness of Yemane Kahasay Andom. Ask God to comfort those who mourn for him. Pray that the Lord will be exalted, even through the deaths of His faithful followers (Philippians 1:20).
For more information on suffering Christians in Eritrea, go to the Eritrea Country Report.