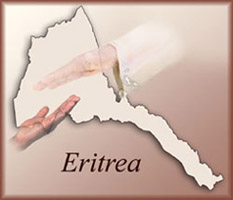 A Christian man detained in Eritrea's Wi'a Military Camp for the past year died of meningitis on September 3 following an outbreak of the illness at the prison, according to reports from Open Doors. Mesfin Gebrekristos, an evangelical Christian, is the fourth known believer to have died in detention this year. He is survived by a wife and two children.
Meanwhile, authorities in the country continue to pressure Christians who do not belong to the state-approved Lutheran, Catholic or Orthodox churches. At a September 6 meeting entitled "Working along with the police to prevent crime in the country," the government called on citizens to report any "illegal" gatherings of Christians in their neighbourhoods.
Pray for the wife and children of Mesfin Gebrekristos as they mourn. Pray that Eritrea's government will cease their campaign against evangelicals and respect freedom of religion for all.
Click here to learn more about the persecution of Eritrean Christians.