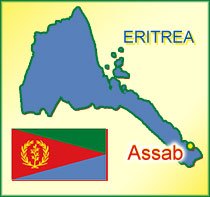 Eritrean believer Efrem Habtemichel Hagos (37) died on March 2 while in solitary confinement in Adi-Nefase military camp in Assab. Efrem's death was caused by malaria and pneumonia, which he had been suffering with the past three months. He was reportedly denied proper medical treatment because he refused to give up his faith in Christ. He is the 12th known Christian to have died while being incarcerated at this camp. Efrem is believed to have become a Christian while doing his military service in the Eritrean Defense Force. He was buried in the camp shortly after his death.
Meanwhile, 30 other Christians have reportedly been released recently, including three or more prominent church leaders. (Source: Open Doors)
Pray for the friends and family of Hagos, as they mourn this loss. Pray that other imprisoned Christians will gain courage from his example of steadfast faith. Thank the Lord for the release of the 30 Christians. Pray for the over 2,000 other Christians who remain in custody for their faith in Eritrea.
For more information on the suffering of Christians in Eritrea, click here.