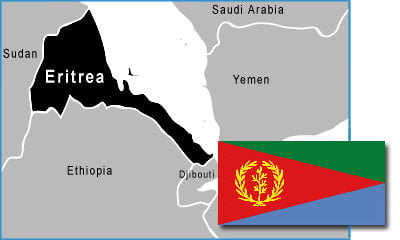 Eritrean authorities are punishing 39 high school students for their Christian faith, excluding them from a graduation ceremony and subjecting them to beatings and hard labour. After completing a four-month military training required in Eritrea, the students (including 11 girls) have been arrested for their "Christian beliefs and for their commitment to Christ."
According to a recent press statement, "The youths are now enduring beatings, forced hard labour and insufficient food and water" at the SAWA military training centre. Sources add that "authorities are also threatening the students with long imprisonment and exclusion from university should they 'fail to renounce Christ.'"
The Marxist-leaning architect of repression of religion and free speech in Eritrea, President Isaias Afewerki, has been in power since Eritrea's separation from Ethiopia in 1991; the National Assembly elected him as president in 1993. An estimated 3,000 mostly Protestant Christians were incarcerated for their faith by the end of 2010. (It is estimated that the figure is now about 1,200.)
The prisoners are held in shipping containers in desert camps, with some kept in underground cells. "The conditions are inhumane: Children and the elderly are amongst the prisoners sharing skin diseases, dysentery and other horrors in confined, unventilated spaces," reports Elizabeth Kendal of the Religious Liberty Commission. "Torture is routine.... Several Christians have died in custody, and others have perished in the desert trying to escape."
As mentioned in a previous alert, the Eritrean military has reportedly made a business of Christian refugees, kidnapping them out of refugee camps in Sudan and selling them to traffickers in Egypt's Sinai. There they are sold to Bedouin gangs who ransom them for tens of thousands of dollars...electrocuting, raping, starving and murdering the Christians as they threaten their relatives. For a previous report on this serious situation, click here.
May the God of justice swiftly come to the defense and rescue of these victimized believers who desperately need His intervention. According to Romans 12:19, such cruel and inhumane treatment of His people will not be taken lightly, for His Word states that vengeance is His...He will repay. Pray that He will not only safely deliver these Christians from bondage and suffering but that He would also make the reality of His presence and conviction known to those who are instigating and inflicting the various acts of persecution, before it's too late.