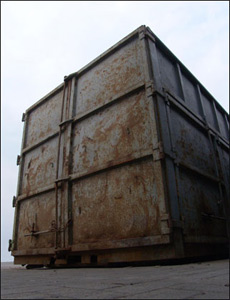 Some Eritrean Christians are detained
in shipping containers such as these.
Pray they'll survive these inhumane conditions.
Photo: Open Doors


On August 24th, Eritrean authorities arrested members of the Church of the Living God in Kushet, a village near the capital city of Asmara, as they met for evening prayer. Among the 30 arrested were 12 women. Although the circumstances of their arrest are not known, sources state that these believers are now under pressure to recant their faith during detainment.
Since the beginning of 2013, the religious atmosphere in Eritrea has deteriorated, with authorities arresting at least 261 Christians to date. Human rights organizations such as Amnesty International and Human Rights Watch have reported that the government of Eritrea continues to incarcerate prisoners under terribly inhumane conditions. Governing officials are also denying access to international organizations wanting to investigate the state of prisons due to this great concern. To better understand the plight of these fellow believers, several informative reports are available at the Eritrea Country Report.
Despite the horrible conditions in which these imprisoned Christians in Eritrea are facing because of their faith, may they find unspeakable joy and immeasurable comfort in the Lord who has promised to be their Vindicator and Deliverer. Ask that He not only render justice on their behalf, but also speak to the hearts of those responsible for incarcerating His beloved people. May God also utilize the efforts of the international community of believers as they seek to intervene with wisdom and in accordance to His perfect will.