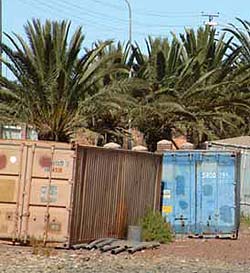 Inhumane prison conditions
of Christians in Eritrea.
As Eritreans celebrated 24 years of independence last month, the underground Christian church remained among the religious minorities operating with the least freedom. In their latest report, the United States Commission on International Religious Freedom (USCIRF) warns that the greatest shortcomings in religious freedom are felt by minority groups such as those consisting of evangelical Christians. USCIRF maintains its position that Eritrea be designated again in 2015 as a "country of particular concern" under the International Religious Freedom Act. (For a historical video documentary on persecution in Eritrea, please click here.)
Greg Musselman, a spokesman for The Voice of the Martyrs Canada, describes the extreme conditions faced by Eritrean Christians: "Today, you've got anywhere between 3,000 to 4,000 Christians there who are imprisoned in shipping containers or military camps because of their faith." Backed by the young nation's official ban on religious activities, Eritrea allows torture and other forms of cruelty toward religious prisoners, as well as random arrests and detentions without charges. Such practices, he adds, are motivated by the reality that "the government of Eritrea sees evangelical Christianity as 'western'...linking it with the CIA."
Numerous Eritrean Christians have sought to escape their hardships by fleeing to Ethiopia where their boldness is inspiring non-believers to receive salvation. Having personally spoken with several of these refugees, Greg Musselman reports, "They are actually seeing many from (various) religious backgrounds -- Muslim and Orthodox -- enter into a personal relationship with Jesus."
Praise the Lord for providing these Eritrean believers a means of escape to safe refuge, and also for using them to lead others to salvation! Please pray that He will work deeply in the hearts of the country's governing leaders so they will grant His people needed freedom to worship Him and glorify His matchless name. May the officials be strongly convicted of their wrongdoings in enforcing such ungodly policies and acutely aware of the fact that they must ultimately give an account of their lives and political governance to an Almighty God.