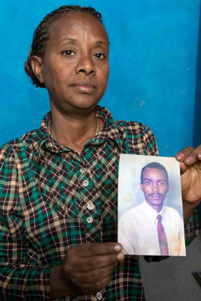 When a peace agreement was reached between Eritrea and Ethiopia, hopes were high that the new-found peace could also lead to a relaxation of human rights violations and religious oppression in Eritrea. On July 18th, the first flight from Ethiopia to Asmara in more than 20 years arrived with Pentecostal evangelist Surafiel Demssie as one of the passengers.
Upon arriving in the capital city, Pastor Surafiel held an informal evangelistic street meeting. He left shortly after and that was when police moved in. At last report, five people were arrested and others have gone into hiding. One of them, believed to be the host of the meeting, was arrested at the airport.
Family members were initially told that the five Eritreans had been arrested for blocking the street and would be released shortly. Later it was revealed that officials from the National Security Agency were responsible for the arrests. To date, those apprehended have not appeared in court. It is common for prisoners of conscience, including Christians, to never face formal charges, despite lengthy imprisonment under horrific conditions. For more accounts of persecution in Eritrea, go to the Eritrea Country Report.
As new relations develop between these two East African nations, pray for discernment to be granted to the Eritrean Christians. Specifically remember the five who were recently detained in Eritrea, along with hundreds of other believers currently being held in custody for their faith. May the Lord give great strength and courage to these innocent prisoners as they await deliverance, and a tremendous sense of His peace to each of their concerned family members.