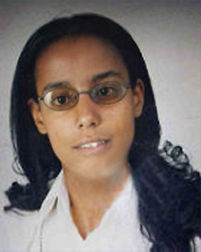 Twen Theodros has spent 13 years behind bars in Eritrea. Despite having suffered brutal treatment, this young woman, who is described as a "precious, lovely Christian" by those who know her, is more concerned about others than for her own well-being. Those familiar with Helen Berhane may know Twen as "Esther."
Imprisoned in the same shipping container, Twen would care for Helen, washing her wounds, feeding her, even taking beatings in her place. VOMC's ministry partner, Release International, had recently managed to find out through contacts how she is doing in prison and request specific ways we can pray for her. Twen's reply was simple yet deeply humbling. She had only one prayer request, and that was for God to be glorified in Eritrea!
Twen, who is in her 30s, as well as other Eritrean prisoners of faith, need our prayers. Pray for their release, but also that they would remain in unity while awaiting freedom from imprisonment. At times, there can be conflict among the prisoners, simply for being locked up together in such a confined space for 24 hours, day after day, while enduring inhumane conditions.
To learn more about Twen, and even write her a letter, visit Prisoner Alert. A book featuring Helen Berhane's biography is also available for purchase here.