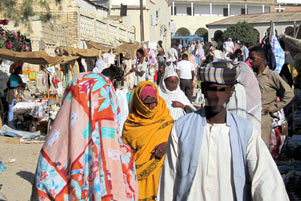 A recent wave of raids against Christians has taken place, with at least 150 arrested in the past two months. On June 23rd, 70 members of the Faith Mission Church of Christ in Keren were arrested (see this report). The believers were taken to the Ashufera prison which, according to reports, consists of a series of tunnels in a remote area outside of the city. Prisoners there are forced to dig more tunnels when additional space is needed.
Also in Keren, six Christian government employees were taken to court on August 16th where the judge ordered them to renounce their faith. All six refused, saying they would not "negotiate their faith." Two days later, 80 more Christians were detained by security officials in Godayef, an area near the Asmara airport. Those detained had been taken to a police station where they were still being held at last report. For more information on the suffering facing Christians in Eritrea, go to our online country report.
Praise God for the ongoing testimony of these believers who are standing firm in the midst of trials. May their faith and endurance be a source of encouragement to other followers of Christ and a testimony to those in need of His eternal salvation -- including their captors. Ask the Lord to also continue ministering to the many Eritrean Christians suffering deplorable prison conditions in other parts of the country because of their beliefs. May He mediate on their behalf as well, miraculously making a way for their safe release.