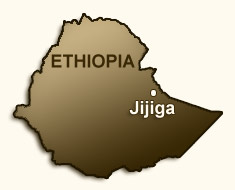 An Ethiopian Christian convert from Islam has been languishing in prison for nearly four months for "malicious" distribution of Bibles, according to a September 15 report from Compass Direct. On May 23, police officers arrested thirty-nine-year-old Bashir Musa Ahmed in Jijiga, eastern Ethiopia for providing Muslims with Somali-language Bibles bearing covers that resemble the Qur'an. Local sources, who requested anonymity, claim that authorities are secretly planning to transfer Ahmed from his Jijiga cell to Ghagahbur jail, in part to prevent other Christians from visiting him and in part because he has not been charged. Ahmed's arrested was reportedly instigated by family members intent on stopping him from spreading Christianity in the region, which is predominately inhabited by Muslims of Somali origin.
Pray for Ahmed's release. Ask the Lord to give him opportunities to share Christ, even in prison. Pray that other believers in Ethiopia will remain steadfast in faith as they suffer.
To learn more about the trials facing Christians in Ethiopia, click here.