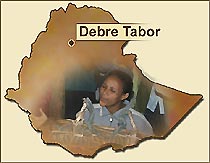 On September 21, a court dismissed an appeal made by two Ethiopian Christians accused of using gifts and money to entice people to convert to Christianity, according to a September 25 report from Compass Direct. Temesgen Alemayehu and Tigist Welde Amanuel went to Debre Tabor, Amhara state in July to plant a church. After only a week, several people came to know the Lord through their witness. On July 19, locals began to question Alemayehu and Amanuel, resulting in an attack on the Christians. According to local believers, the instigators were from the "Fellowship of Saints" -- a group within the Ethiopian Orthodox Church that works to counter reform movements and protect the church from outside threats. Amanuel was able to escape the assailants and flee to a home nearby, where she was kept safe until police arrived. When officers arrived on scene, they were able to rescue Alemayehu, who was wounded, from the crowd and bring him into custody. The attackers accused Alemayehu and Amanuel of insulting their religion. The believers were found guilty on July 23 and sentenced to six months in prison.
Pray that these believers will exemplify the love of God through consistent love and prayer for those who persecute them (Matthew 5:43-48). Pray for their safety and release from prison.
Learn more about the persecution believers are facing in Ethiopia by visiting the Ethiopia Country Report.