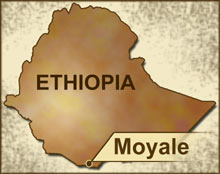 A Christian in Ethiopia's southern town of Moyale was sentenced to three years in prison for allegedly desecrating a Qur'an, church leaders said. Tamirat Woldegorgis, a father of two and member of the Full Gospel Church, was arrested in early August after a Muslim co-worker in the clothes-making business the two operated discovered Tamirat had inscribed "Jesus is Lord" on some cloth, area Christians said. His business partner later accused him of writing "Jesus is Lord" in a copy of the Qur'an, although no evidence of that ever surfaced. Tamirat was sentenced on November 18 and transferred to Jijiga prison, a source said. Jijiga is the capital of Ethiopia's Somali Region Zone Five, which is governed by Islamic principles. Tamirat's transfer there puts his life in great danger, a church leader said. The church is concerned about Tamirat's condition.
Pray Tamirat will be blessed with the Lord's comforting strength and presence. Pray for his release from prison and, in the meantime, pray for his protection. Pray the Lord will ease the grip of Islamic rule and influence over parts of Ethiopia.
For more information on the challenges facing Christians in Ethiopia, visit the Ethiopia Country Report.