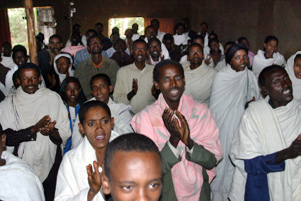 Despite meeting in the same location for ten years, a church in central Ethiopia has been ordered to vacate, citing noise violations. Members of the Mekane Yesus Evangelical Church in the town of Robe were told by state authorities that neighbours have complained about the noise and that the building was not suitable for worship services. They also claimed that those attending were not from the local area.
Church members question the ruling, as the noise from neighbouring mosques and Ethiopian Orthodox churches are much louder and being broadcast throughout the day. They believe this decision stems from animosity against Protestant churches in the region.
Evangelical Christianity has been growing exponentially in Ethiopia, with new churches being started weekly. In 2015, there was estimated to be about 19 million evangelical Christians who are now sending out missionaries around the world. For more information on Ethiopia, go to our country report.
Join with us in praising God for the wonderful work He is doing in and through these Ethiopian believers. Uphold them in prayer as they reach out to others in their country and beyond with the Gospel, often in areas hostile to the message they are proclaiming. Additionally, remember the believers in Robe who are now seeking wisdom on how and where to meet for worship, as well as ways they can work harmoniously together with fellow citizens residing in the community.