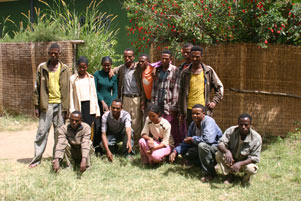 On March 13th, a church in the town of Jeru in northern Ethiopia was burned to the ground. During the attack, believers were severely beaten and expelled from their homes by fellow villagers. Those responsible were members of the Ethiopian Orthodox church.
While it may seem unusual for Christians to face opposition from others who claim to follow Christ, this is not unusual in Ethiopia. The dominant religions of the nation are Islam in the south and the traditional Orthodox church in the north. Those who are not members of either group frequently face strong opposition from neighbours and family members who consider them apostates.
Non-Orthodox Christians are considered second-class citizens who are not eligible to receive many of the benefits available to members of the country's two dominant religions. The government provides free land for the building of mosques and Orthodox churches, as well as free burial plots; however, such privileges are not available to anyone outside of these groups. For more information on the persecution facing Christians in Ethiopia, visit our country report.
Lift up the members of the attacked church in your prayers, as they work to rebuild their lives and find ways to worship together. Pray that they will be allowed to safely return to their homes. Ask God to mightily work in the hearts and minds of their opponents, so they will turn to Christ in genuine repentance and true faith -- receiving the grace and forgiveness that's been made available to them through the precious blood of Jesus. May Ethiopia's authorities govern fairly by providing needed support and protection for all citizens, and may the great compassion, character and teachings of Christ bring unity.