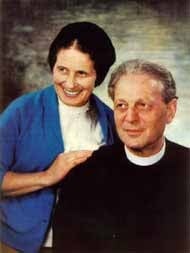 Christian Wölfkes prayed for years to win a Jew for Christ. One day in 1937, a young Jewish man and his wife arrived in his village in Romania. Wölfkes shared Jesus with Richard and Sabina Wurmbrand, leading them to Christ. Their conversion to Christianity came at a time of increasing unrest in the world, and soon they faced the choice of standing firm for Christ or compromising on their beliefs.

In 1945, approximately 4,000 religious leaders in Romania gathered to swear loyalty to the new Communist regime. Richard, urged on by Sabina, stepped forward and boldly stated that the duty of a Christian is to glorify God alone. Three years later, he paid the price for this decision when he was arrested by secret police and placed in a solitary cell. Sabina was arrested two years later, leaving their eight-year-old son, Mihai, alone.

In total, Richard spent 14 years in prison. While imprisoned, he envisioned a ministry that would focus on the plight of the persecuted Church, raise a voice on its behalf and provide encouragement and assistance to those suffering for their faith. In the mid-1960s, his dream became reality when The Voice of the Martyrs was founded in the United States.

While Sabina and Richard passed on to glory in 2000 and 2001, respectively, their faithful example of dedicated service to Christ—regardless of the cost—inspired thousands worldwide. Today, the Wurmbrands' legacy lives on as VOM offices around the world continue their work in remembering and serving the persecuted Church.