The Voice of the Martyrs has learned that Pastor Rinaldy Damanik, who was falsely convicted of weapons charges in 2002, has been taken to hospital in Palu. Doctors believe he is suffering from kidney problems; a condition he has suffered from before.
Damanik was sentenced to three years in prison after weapons were reportedly found in his vehicle as he was helping to evacuate Christians from a village threatened by Islamic militants. Despite numerous inconsistencies, all appeals to this point have been lost.
Pray that Damanik will recover soon from his illness. Pray that further legal action being taken to secure his release will be successful. Pray for peace in the central Sulawesi region of Indonesia where many Christians have been martyred in recent years.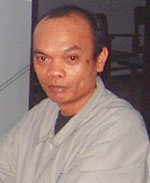 You may write a letter of encouragement to Pastor Damanik at:
Rev. Rinaldy Damanik
Rutan Maesa
Jl.Bali la
Palu 94112
Indonesia
For more information on the situation facing Christians in Indonesia, click here.