On April 21 the Persecution and Prayer Alert reported that Pastor Rinaldy Damanik was taken to hospital with serious kidney problems (click here for details). Damanik is serving three years in prison on false charges of "illegal weapons possession."
Doctors determined that he required surgery as soon as possible and that the surgery could only be done in Jakarta. However, permission from the authorities to transfer to the Jakarta hospital was consistently delayed and, to prevent any problems with his accusers, Damanik refused to be transferred until an official letter had been received.
In an interesting testimony of God's grace and providence, in a May 4 release from the World Evangelical Alliance Religious Liberty Commission, Elizabeth Kendal shared the story of a Muslim cleric who, some months ago, had a vision that he should visit Damanik in prison. This man was deeply impacted by Damanik's faith and so, when he heard of Damanik's recent medical problems, he went to the prison authorities and pleaded with them, in tears, to have him transferred to the hospital in Jakarta. That permission was finally granted on May 3 with the transfer to take place on May 5.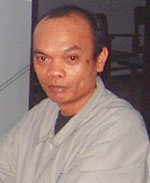 Doctors are concerned that the delay may have affected his chances of a full recovery. Please pray for a full recovery for Pastor Damanik. You may write a letter of encouragement to Pastor Damanik at:
Rev. Rinaldy Damanik
Rutan Maesa
Jl.Bali la
Palu 94112
Indonesia
For more information on Christians in Indonesia, click here.