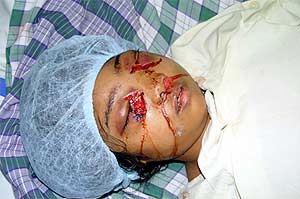 Desrianty Tengkende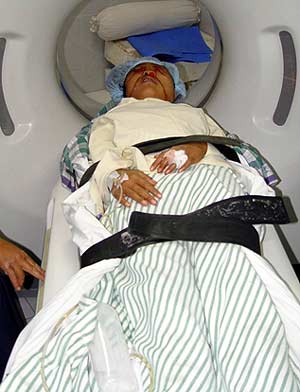 The relative calm in the Central Sulawesi region of Indonesia in recent months was shattered on July 18 when five men armed with machine guns overpowered a security guard at the Efatha Presbyterian Church in Palu during an evening service and opened fire. The gunmen then fled, leaving the pastor dead and four others injured; one critically. Rev. Susianty Tinulele died instantly with gunshot wounds to her head. A seventeen-year-old girl, Desrianty Tengkende, remains in critical condition after being shot in the left eye. When the attack started, Desrianty instinctively pulled her Bible to her face; the bullet went through the Bible into her eye. Also injured were Kris Midianto (18), Farid Mehingko (15) and Lustiani (15).
According to a report from International Friends of Compassion, Christian leaders received text messages on their cell phones following the attack, claiming that its purpose was to provoke a response. They were obviously hoping that Christians would respond violently. This attack culminated a weekend of violence in Central Sulawesi. The previous evening in Poso, a bomb exploded outside of a cultural event and a Christian woman was killed outside her home after being stabbed nine times.
Rev. Susianty was twenty-six and had been ordained only weeks before. She was due to be married in September. She was a strong supporter of Rev. Damanik who is in prison after being framed on weapons charges. She had visited Damanik only two days before, bringing him food.
Pray for the family and friends of Susianty during their grief. Pray for those injured, that they will fully recover. Pray that the Christian community will respond in a Christ-like fashion, refusing to be provoked by this senseless violence.
For more information on the troubles facing the Church in Indonesia, click here.