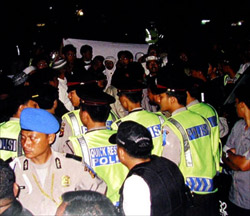 Police try to restrain protestors at a GKI Yamin
Christmas night service in Bogor, West Java
Photo from Compass Direct
During the Christmas season, government officials in West Java province, Indonesia, blocked church members from worshipping in one church, and Islamic groups pressured authorities to seize the property of another.
The Bogor Regency Administrative Leadership Council was unsuccessful in keeping Gereja Kristen Indonesia (Indonesian Christian Church, or GKI) in Bogor's Taman Yasmin area from holding a December 25 service, but authorities did prevent its regular Sunday service on December 26.
GKI spokesperson Bona Sigalingging said police telephoned church leaders to forbid Christmas services that were to begin at 7 p.m. on December 25. The church worshipped anyway, with nearby demonstrators screaming, "Allahu akbar [God is greater]!" and "Break it up!" However, authorities blocked church members from worshipping the next morning.
Islamic demonstrators in Rancaekek, Bandung, got police to remove items such as pews from a Huria Kristan Batak Protestant church building on December 19. That church had already been sealed.
Thank the Lord for the faithfulness of Indonesian Christians who continue to meet together in spite of severe opposition. Pray they will be greatly encouraged by seeing the Lord's hand at work in continuing to strengthen the church and add to its numbers.
You can read more about the persecution Christians face in Indonesia by visiting the Indonesia Country Report.