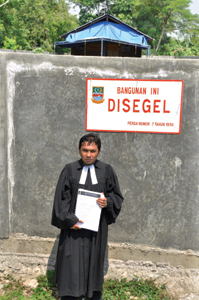 Pastor Palty's church was sealed shut
with this concrete wall. Behind Pastor Palty,
you can see a government closure notice.
About 600 Muslims threw bags of urine and filthy water at 100 members of a church in Indonesia and threatened to kill the pastor. No arrests have been made. The mob, which included the chairman of the Bekasi chapter of the extremist Islamic Defenders Front (FPI), attacked members of the Philadelphia Batak Christian Protestant Church while police looked on.
The Christians were peacefully worshipping on the street of a community in Bekasi, near Jakarta, on May 17 when they were accosted. The angry throng began to throw urine, ditchwater, rotten eggs, stones and dirt when Pastor Palty Panjaitan came to speak to his congregation. The congregants were forced to disperse. Pastor Palty received a death threat and filed a police complaint.
The church had been denied a permit to construct a church five years ago, and the local administration asked it to shut down in December 2009 (for more, click here). The Supreme Court overruled the administration's decision in July last year, saying the church was eligible for a permit, but due to pressure from Islamist groups, officials insist the congregation meet elsewhere.
Please pray that members of this church will soon be able to freely worship the one true God. Please pray for the protection of Pastor Palty. Pray that those who oppose this church will come to know salvation through Jesus Christ. Pray that these believers will rejoice in the opportunity to grow in Christlikeness through the ongoing opposition they face (James 1:2-4).
Go to the Indonesia Country Report for more on persecution in Indonesia.