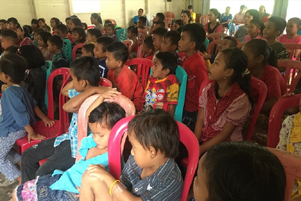 Christian organizations in Indonesia have raised concerns about a new religious education bill that would require government permits before conducting any classes, including Sunday school, catechism or Bible classes. The law, if passed, would require a minimum of 15 participants, along with approval from the government's Religious Affairs Ministry.
One church leader believes it will be used by hardline groups to ban church activities and harass Christians. "It limits Christians in conducting important and inseparable parts of religious activities," he states. Those concerned have launched a petition demanding that informal classes, such as Sunday school, be left to the regulation of individual religious groups.
Pray that the governing officials responsible for the proposed bill will be open to input and the need for modifications to ensure religious freedoms. Uphold the country's church leaders and congregation members, asking God to grant them wisdom and discretion as they raise their concerns. May Christian families throughout Indonesia, as represented by the churches, be free to train their children in the ways of the Lord.