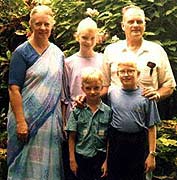 The Staines family before
the tragedy took place
Fourteen years after Australian missionary Graham Staines and his two young sons were burnt to death by a right-wing mob, two more suspects were recently arrested from Odisha's (formerly known as Orissa) Keonjhar district.
It is reported that long-sought fugitives Ghanshyam Mahanta and Ramjan Mahanta were finally arrested on May 17th during a raid by CBI officials and the Keonjhar police. A third individual has still not been located.
At the time of the horrific incident, Graham Staines, 58, and his sons Philip and Timothy were burnt to death on January 22nd, 1999, by a mob led by Bajrang Dal activist Dara Singh. Graham and his sons were asleep in their station wagon in front of a church in Manoharpur village in Keonjhar, about 400 kilometres northwest of Bhubaneswar.
According to recent news reports, numerous people had been previously arrested for their involvement in the crime, while the search continued for the remaining three perpetrators. In 2003, a Central Bureau of Investigation court in Bhubaneswar initially sentenced Dara Singh with the death penalty and the others to life imprisonment. In 2005, the Odisha high court commuted the activist leader's death sentence to life imprisonment.
While we can be thankful that justice is being meted out on behalf of the Staines family, may the Lord continue to use their testimony in the lives of all they so lovingly served in India. Pray that He will continue to nurture the seeds of the Gospel that have been sown through this family's strong Christian witness and the forgiveness extended by Graham's surviving wife Gladys and their daughter Esther. As a result of His ongoing work, may these seeds bear much good fruit in the lives of the people within this community and beyond.