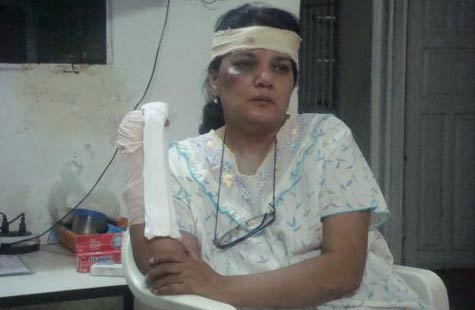 Pray for her quick recovery.
Photo: AsiaNews




The mother of a Pentecostal pastor in Rajapark, Jaipur, was brutally attacked by Hindu militants who sought to kill her son and his wife. On August 13th, at 2:30 p.m., 51-year-old Reena Behl answered the door of her son's house to find four men who she says were disguised with helmets, demanding to see her son, Rev. Vishaal Behl, and his wife. When they were told that she was unaware of the couple's whereabouts, they pushed her aside and entered the house, breaking items and threatening to kill the couple. As Reena cried for help, the men pinned her to the floor and beat her. "If you do not convert to Hinduism, we will kill you and cut you to pieces," they told her. The only other person home was her elderly mother-in-law. Neighbours hurried to Reena's defense, at which point the militants fled. Reena was soon hospitalized with a head wound and a fractured hand.
Since the attack against Reena, the Behl family has relocated. As the leader of a prominent Christian ministry, Vishaal has previously been targeted by detractors. "Hindu extremists have threatened to kill Vishaal a number of times in the past because of his faith in Christ," Reena explains. Reverend Behl is the Director of Fire of God Ministries, which includes two churches in Jaipur and one in Amritsar, Punjab state. Fire of God Ministries also oversees evangelistic conferences, a prison ministry and a school program.
A few years before entering the ministry, Vishaal and his wife converted from Hinduism to Christianity. Earlier in their Christian walk, they were persecuted by the rest of the family. Over time, the family's hostility to Christianity diminished. Today Reena applauds the changes she has noticed in her son, and she is impressed by his faithfulness in ministry. Other stories about persecution in India, as well as video links, are available at the India Country Report.
Pray that God will deliver the Behl family from any further life-threatening attacks to their lives, and that He will mightily strengthen and sustain them. As they continue to put Him first and follow His direction, may the Lord abundantly bless Fire of God Ministries, using it in far greater ways. Ask for complete physical healing for Reena, and for the attackers to experience His transforming love and salvation.