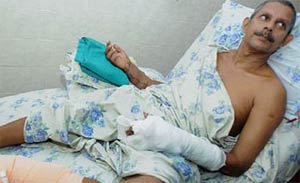 TJ Joseph after reattachment surgery
Photo: AsiaNews



TJ Joseph, a Christian professor accused of blasphemy in 2010, was finally acquitted on November 15th. The accused professor was suspended from his job in March of 2010 after he included questions in a test that were deemed offensive to several of his Muslim students.
Several months later, a group of assailants attacked him on his way home from a church service, amputating his lower arm. Later that year, TJ was fired from his teaching position. Along with his recent acquittal, TJ has been offered the opportunity to return to his job by school authorities. (For more information on the 2010 attack, please click here.)
Thank the Lord for this answer to prayer! Pray that God will enable TJ to forgive those who so terribly attacked him, as well as the school authorities who fired him unjustly. Pray that TJ's ordeal and testimony will draw many to Jesus Christ as their Saviour and Lord.
Please visit the India Country Report to learn more about India's persecuted church.