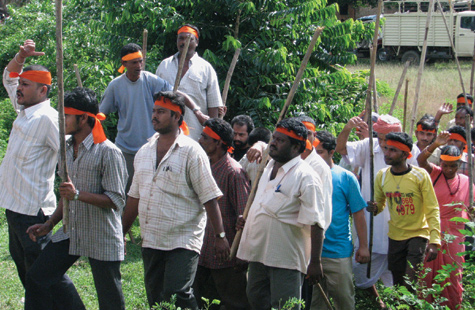 Believers in India routinely face threats
and violence from Hindu militants.


Militant Hindus attacked believers in several incidents during recent weeks. On Christmas Day, approximately 20 assailants raided the home where a group of Christians had gathered for prayer, grabbing Bibles and ripping them apart while shouting and cursing at the group for "destroying the Hindu culture." The Hindus also called local police, accusing the believers of "forced conversions to Christianity." Police arrested Pastor Arjun, 24, and five other Christians, seizing 20 Bibles from the home as evidence. The six Christians were released on bail the following day but still face prosecution.
In Andhra Pradesh, a pastor was left in critical condition after he and his wife were attacked on December 30th by a group of radicals wielding swords, knives and sticks. Pastor Namha Mosses, his wife Suvartha, and their seven-year-old daughter were asleep in their home when they heard a knock on the door at 1 a.m. When Pastor Namha answered the door, he was repeatedly stabbed in the stomach and back, causing damage to his liver, kidneys and other internal organs. When Suvartha rushed to help her husband, the assailants turned on her, injuring her head and hands. Neighbours called an ambulance for the wounded couple, who were immediately taken to a nearby hospital. Because Pastor Namha's injuries were more severe, he was transferred to a hospital in Hyderabad. The pastoring couple had been warned to stop their Christian activities, but they continued to minister through prayer and the services of their church which includes 100 members and six house churches in the area.
Also in Andhra Pradesh, another church leader who had been stabbed succumbed to his injuries and died on January 13th. Brother Sanjeev was attacked several days prior to his death after the assailants came to his home which was located on his church's premises. Although the pastor was rushed to a local hospital, and later transferred to a larger medical facility, he died while undergoing treatment. Brother Sanjeev's wife was also attacked and suffered serious wounds to her arm. The pastor leaves behind his grieving wife and three children. At last report, three members of a militant Hindu group had been arrested for the murder.
Bring the country of India before the Lord in prayer, asking Him to use His church in a powerful way to shed the light of the Good News to the many lost souls in need of rescue from the realm of darkness. Ask Him to be especially near the six accused Christians who are facing prosecution. May their charges be dropped and their witness for Christ go unhindered so they can continue serving Him despite the risks. Pray for healing for Pastor Namha and Suvartha, and encouragement for their church during this difficult time. Finally, please remember to uphold Brother Sanjeev's grieving family. While he is now able to behold our Risen Saviour face-to-face, his family, friends and congregation are understandably mourning his loss. May they experience the Lord's reassuring comfort and the ability to extend mercy and forgiveness to the attackers through His grace.
For more information about India's persecuted church, go to the India Country Report.