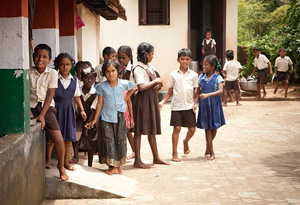 Indian authorities have charged ten chaperones for allegedly converting Hindu youth to Christianity. While taking the children to a Christian summer camp -- with the parents' approval -- the accused were detained. Authorities say the parents had allegedly failed to file the necessary legal paperwork with the government in order to make the conversions official, meaning the children are legally still Hindu. However, according to the accused Christian leaders, these families were already Christians and, as such, were not engaging in conversion.
The Indian Express newspaper reported that the adult chaperones originally faced charges of engaging illegally in conversion and kidnapping, because it was uncertain at first whether the parents had been aware of the youths' trip to the camp. Later, the kidnapping charges were dropped, and news coverage mentioned only charges for illegally trying to convert people to a non-Hindu religion.
The officials stated that they had "rescued" the 71 children and placed them in "welfare homes" until they could be interviewed. "The traumatization of these tribal and Dalit children from the villages of western Madhya Pradesh is symptomatic of the paranoia and targeted hate that is currently sweeping across north India," explains John Dayal, spokesperson of the United Christian Forum.
The children and their families are part of the nation's lowest caste, known as Dalits, a group that is sometimes called the "untouchables" because their touch is believed to defile higher-caste Hindus. Although discrimination against Dalits was outlawed in 1955, the problem still persists today -- especially among Dalit Christians. To learn more about persecution in India, click here.
Please pray for the ten Christian leaders facing conversion charges. May they experience God's strengthening presence as they await the court's verdict. In addition, intercede for the children who are presently in the care of "welfare homes" during the investigation, that they would sense His tender loving care while waiting to be reunited with their families. In general, uphold all of India's persecuted Dalit Christians, praying that the Holy Spirit will mediate on their behalf so they will no longer be classified as lower-caste people but rather as valued members of society who are made in the image of God.