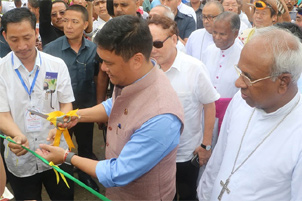 Anti-conversion legislation has been a part of several Indian states for many years. It was first introduced in Orissa in 1968 and has since been introduced in six other states -- the most recent being Uttarakhand in March 2018. (For more details, visit this page.)
In a surprise announcement, the Chief Minister of Arunachal Pradesh intends to repeal the 1978 Freedom of Religion Act. In making the proclamation on June 28th, he stated that the act, rather than providing freedom of religion, "could undermine secularism and is probably targeted towards Christians." According to The Hindu news service, Christians account for more than half the population of the state.
The announcement is particularly surprising because Arunachal Pradesh is currently governed by the Hindu-nationalist BJP party, which has actively campaigned to expand such legislation throughout India. The party has been increasingly pushing Hindu nationalism ahead of next year's national elections. Since the Chief Minister's announcement, there have been sharp reactions. Indigenous faith groups have strongly condemned his decision, while Christian groups have expressed appreciation and joy.