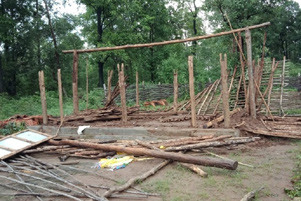 Christians residing in the Gadchiroli district of Maharashtra state have been warned by fellow villagers of the intent to close one church every week. Since June, more than a dozen homes belonging to Christians have been attacked across five villages.
The believers have been told that, unless they renounce their faith, the water supply will be cut off and food subsidies will be stopped. In a recent incident that took place on August 5th, Gallu Kowasi was badly beaten in the village of Kospundi by locals who were demanding that he abandon his faith. Several others have faced threats of death or expulsion.
In the village of Bharagad, Christians filed a police complaint, but the authorities did nothing. Instead, they later received letters warning them against any further complaints. The opposition stems from a belief that the churches have been destroying local traditions and culture by luring others to convert.
Remember your persecuted brothers and sisters in India as they seek to share the Gospel of Christ despite the opposition they face. May they rest in the assurance of God's blessing and love in the midst of persecution (Matthew 5:11). Pray that His healing will take place in the lives of the injured victims and His abiding presence will encourage those who've been ostracized.