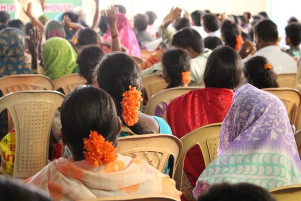 Prior to May of this year, Pastor Singh's congregation in Jhabua, located in rural Madhya Pradesh state, numbered more than 200. Faced with increasing threats from militant Hindus, several families have stopped attending in recent months -- to the point that attendance is now down to about 50 or 60 people.
Shankar, one of the villagers, said that he had been a Christian all his life. Despite being raised in a Christian home, he is facing accusations of "converting to a foreign faith and deserting the Hindu religion." In the village of Kardubadi, Christians of the community were told during a local meeting in May that they should not attend church or even pray in their homes. When the believers objected, the entire village ostracized them.
Later that same month, the members of Shankar's family had simply been praying in their home when the police were called. Subsequently, the officers took him to the police station where he was subjected to beatings and harassment. He has since been forced to leave the area with his family and find work elsewhere to feed them.
In the face of this violent opposition, many Christians have been mandated to stop attending church services. One stated that the opposing villagers were trying to force them to live like Hindus. Despite the persecution, another villager by the name of Babu affirmed, "We are not going to leave Jesus; no one is going snatch Jesus from our hearts."
Pray for God's protection, peace and strength to be upon these believers in the face of constant scrutiny and harassment. May His Holy Spirit give them wisdom as they endeavour to live out their Christian witness in a way that is honouring to Christ. Pray that the lives of these faithful believers will serve as a beacon of His brightly shining light amid the darkness around them.