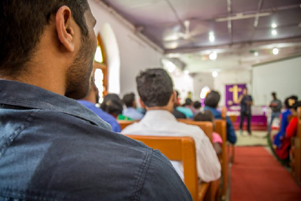 Charges have been laid against 271 Christians after a complaint was made by a Hindu activist group. According to the accusations, members of the Pentecostal church in the Jaunpur region of Uttar Pradesh state were allegedly spreading lies about Hinduism and attempting to convert people to Christianity during their services. Allegations were also made that the members were drugging people to forcefully convert them.
Police are investigating the allegations. At last report, only three pastors had been identified: Durga Prasad Yadav, Kirit Rai and Jitendra Ram. The rest of the Christians charged were referred to as associates. According to one source, opposition particularly grew when prayer meetings began attracting crowds and people claimed to be healed through prayer. "The allegation of drugging people to convert people to Christianity is absurd," he adds. "No one would do such a thing in Christianity."
Opposition to Christianity has been increasing in Uttar Pradesh state recently, as well as many other areas of India. For more details, go to the India Country Report.
Pray that the truth will be revealed, resulting in the dismissal of all charges against these faithful witnesses for Christ. May those who have come to faith through their ministry grow in the grace and knowledge of our Saviour and Lord (2 Peter 3:18). Also intercede for the accusers who have raised these false allegations -- in hopes that through conviction and repentance, they will wholeheartedly come to faith in Jesus.