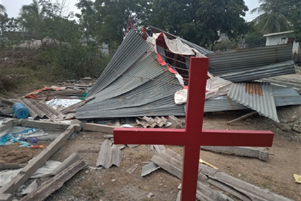 A church building within the village of Narnepadu in southern India was torn down on January 9th because it was on the west side of the village. Those responsible claim that the location of the building violated principles of Vastu Shastra, a Hindu system of planning and placement similar to the Chinese practise of Feng Shui.
According to the pastor, the church had formerly met in a rented shed, a facility also opposed by some villagers because of its placement on the west side of the village. When the church purchased property to build last year, village elders countered that the plan had opposed Hindu beliefs. Despite this, the church proceeded with the construction.
On January 9th, the village president called a meeting to discuss the situation but Pastor Koteswara Rao was not available. This annoyed the village leader who then ordered other villagers to demolish the church building. Members of the church leadership have filed a complaint with the police, since discussion between the pastoral leaders and village elders to resolve the issue has not yielded any positive results.
Prayerfully uphold the pastoral leaders, asking God to help them resolve the dissention by providing ways to cultivate an amicable relationship with the rest of the villagers, especially as they determine future plans for the rebuilding of the church. Pray for justice to be served and, throughout the process, that the love of Christ will be evident in this situation.