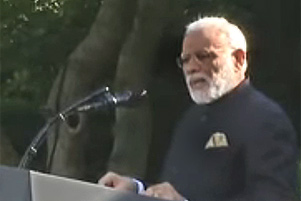 As more than 600 million citizens cast their ballots in the Indian general election, Christians and members of other religious minorities had added concerns about the outcome. Those concerns were realized after the results came in, for the Hindu-nationalist BJP party captured 303 of the 543 eligible seats. No other party had secured the minimum ten percent of seats required to gain official party standing.
The BJP party has indicated support for Hindutva, a philosophy commonly used in attempts to make India a Hindu nation. Such goals have led militants to frequently target Christians and other religious minorities. Attacks against Christians have more than doubled since the BJP came to power in the 2014 election. "Indian Christians fear this further shift toward nationalism could lead to even more attacks against their community," warns Paul Robinson, CEO of Release International.
Please pray that India's Christians will be strengthened in their faith and commitment to stand firm, regardless of the pressures they face. May these believers keep sharing God's truth at every opportunity, while trusting Him with the future. Intercede for Prime Minister Modi and others in his government, asking God's Spirit to provide them wisdom and guidance so safeguards against radicalism can be legally instituted for the protection of all citizens.