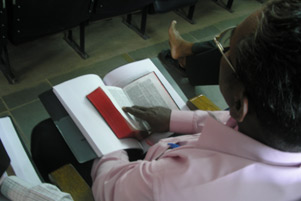 A home prayer meeting was disrupted by Hindu nationalists in the Kanshiram Colony of Uttar Pradesh on July 28th. As some men and women were walking to the meeting, nationalists who recognized them as Christians began to physically and verbally assault them. When they arrived at the home where the prayer meeting was taking place, the harassment continued.
The attackers entered the house and dragged Pastor Raju Prassad outside where they commenced with their assault by beating him. When police arrived, Pastor Prassad was arrested and taken to the police station where the abuse resumed. After five hours of interrogation, the police determined that no conversions were taking place at the meeting and the pastor was released.
Despite the obvious physical abuse, even at the police station, no action was taken against those who beat him. While Pastor Prassad says that he expects opposition, he was surprised at this violent reaction when it was simply a prayer meeting for church members. For more information on the persecution facing Christians in India, go to our country report.
Remember Pastor Prassad and the others who were injured during this recent assault as they recover, asking God to protect them from any further attacks. Pray for the ongoing ministry of their church fellowship in the Kanshiram community so it will grow and flourish despite this opposition. May those who oppose the Gospel see the truth of Scripture and come to faith in Christ.