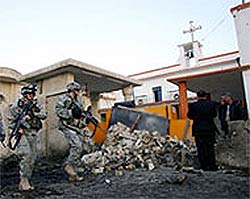 Three people died and many were injured when car bombs clearly intended for six churches exploded in a coordinated attack on Sunday, January 29 in Kirkuk and Baghdad.
Three people died in the northern city of Kirkuk after coordinated car bombs exploded outside the Catholic Church of the Virgin Mary and an Orthodox Church. In Baghdad, car bombs also exploded outside St. Mary Chaldean Church, Catholic Church of St Joseph's and an Anglican Church. The Seventh-Day Adventist Church also claims that their church in Baghdad was targeted by a car bomb for the second time in two years. A bomb also exploded near the Vatican Embassy in Baghdad.
Pray that believers throughout Iraq will know the protection, preservation and strength of God. Remember the families of the deceased in your prayers.
For more information on the persecution facing Christians in Iraq, click here.