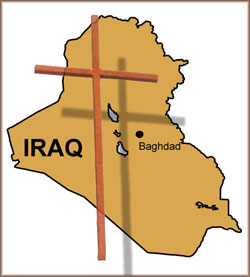 A Christian man named Fouad Salim (32) was killed by Muslim militants while leaving the police station he worked at in Baghdad on June 12, according to a June 27 report from Compass Direct. Salim's family believes that he was killed because of his refusal to convert to Islam. He had informed his family that anonymous people he believed to be Muslim militants had been threatening to kill him if he did not convert. Salim is survived by a wife, a five-year-old son and a two-year-old daughter.
Ask the Lord to give comfort to Fouad's wife, children and others who mourn for him. Pray that they will find peace in the fact that the Lord will be exalted, whether in life or in death (Philippians 1:20). Pray that those who persecute Christians in Iraq will come to repentance and accept Jesus Christ as their Saviour.
For more information on persecution in Iraq, click here.