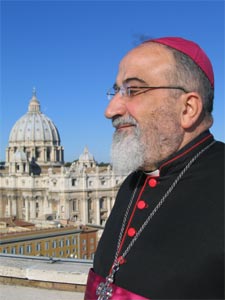 Chaldean Archbishop Paulos Faraj Rahho
Photo from
AsiaNews
At approximately 5:30 p.m. on February 29, armed men kidnapped Chaldean Archbishop Paulos Faraj Rahho (65) after ambushing him as he was leaving the Holy Spirit parish in Mosul. The men shot and killed the priest's driver and two guards before abducting him.
On March 2, the Syriac Christian archbishop of Mosul began negotiating with the kidnappers for Rahho's release after receiving a phone call from the kidnappers. The next day, the kidnappers again contacted church officials using Rahho's cell phone and raised the initial ransom amount. At last report, the ransom amount was set at $1.8 million. The captors have yet to give any indication of Rahho's wellbeing. There is considerable concern for his health as he suffers from heart problems that require daily medical treatment. Rahho has reportedly been threatened several times by militant groups demanding extortion money. Local believers see the abduction as an attempt to intimidate and frighten Mosul's Christian community.
Pray that Father Rahho will be released. Pray that he will rely on the Lord to sustain and protect him. Pray that Christians in Mosul will not give in to fear but continue to trust in God (2 Timothy 1:7).
For more information on the persecution of Christains in Iraq, go to the Iraq Country Report.