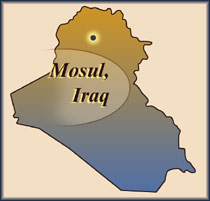 Two churches and a school in Mosul, Iraq were targeted in bomb attacks on December 15. In the late morning, a car bomb exploded in front of the Church of the Annunciation in the al-Mohandiseen neighbourhood, damaging walls and windows. The assailants also threw grenades at the nearby Christian school, killing a baby girl and injuring many others, including five teenagers. In another attack, an explosive device was detonated in front of the Syro-Catholic Church of the Immaculate in the northern neighbourhood of al-Shifaa. No one was killed or injured. The bombings are the latest in a series of recent attacks on Christian sites in Mosul. Many Christians in the city have fled Iraq while others are afraid to even leave their homes. (Source: AsiaNews)
Pray for comfort for the family of the young girl who was killed. Ask God to give healing to those injured. Pray that Iraqi Christians will be filled with hope and peace as they celebrate the birth of Christ amid the threat of violence.
For more on trials facing Iraqi Christians, go to the Iraq Country Report.