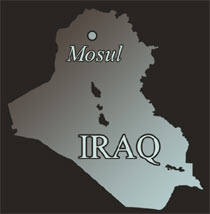 Christians in the northern Iraqi city of Mosul have continued to face attacks in recent weeks. On December 24, Basil Isho Youhanna was shot and killed in front of his house in the northern neighbourhood of Tahrir. On December 28, a university student, Sarah Edmond Youhanna, was kidnapped from The University of Mosul. The kidnappers have since telephoned Sarah's family and stated they are members of an Islamic group. Two days later, on December 30, a deacon, Zhaki Homo Bashir, was seriously injured when unknown assailants shot him in his shop in the district of al Jadida. (Source: AsiaNews)
Pray for the loved ones of Basil as they grieve. Pray for a complete recovery for Zhaki. Ask God to protect Sarah and bring her home safely. Pray that authorities will provide protection for Christians and other minorities in the country.
Learn more about the persecution Christians face in Iraq at the Iraq Country Report.