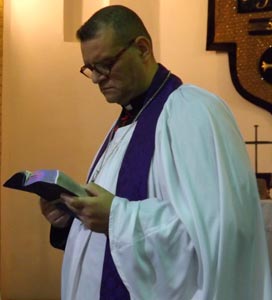 Canon Andrew White


The following is an urgent update received recently from Canon Andrew White: "I returned to Baghdad following a trip to the U.S. and Canada. Whilst the trip was very good...when I arrived, I found things the most desperate they have ever been. The violence and murders have ascended to such levels that scores of people are being killed each day.... Things are so awful, the Lord is our only hope.
"Violence is all around us. Today alone, there have been 15 suicide bombs. Yesterday, there were even car bombs in the safety of the Kurdish city of Erbil. In the past day alone, one bomb at a funeral killed 123 people. Most of what really happened has not even been on the news. Yesterday, I preached on the hope of the Second Coming. That is all we have to hold on to, for 'soon and very soon we are going to see the Lord.'
"It is so painful to have person after person come to me and say they have got to leave, including my son who has been with me since he was ten. With him leaving...I confess I thought, 'How on earth will I cope?' Then I remembered that (God) who has called me to this place will never fail me. As He remained with Daniel, so He will remain with me. You cannot leave those you love, and you cannot make those you love stay, when in reality you know how dangerous it is for them.... Thank you for standing with me in the midst of such pain. May God bless you much." To view a video clip featuring Canon White and other members of the church in Iraq, click here.
What a consolation it is to know that God will never leave us nor forsake us, no matter what circumstances we may be facing. And how much more meaningful are His promises in times of great uncertainty and chaos. May Canon White and the remnant of believers there in Iraq be reminded that they are surrounded by God's mighty army of angels and, more importantly, His powerful presence. In addition to receiving the Lord's strength and encouragement, pray that they will also be given opportunities to minister His hope, provision and healing to the unsaved, needy, bereaved, hurting, fearful and despondent with the Good News of the Gospel.