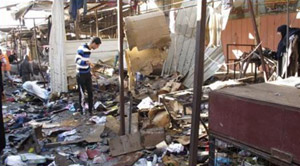 Damages from the explosion
Photo: AINA



Two Christian areas of Baghdad, Iraq, were targeted in Christmas Day car bombings. In the first attack, two bombs were detonated in the busy market of a predominately Christian area, killing at least 10 people and injuring twice as many.
Shortly afterwards, a car bomb exploded as Christians departed from a Christmas service. At least 25 people were killed in the bombing, and many others were injured. At last report, there has been no claim of responsibility for the attacks. However, al-Qaeda and other insurgents have often targeted Iraq's dwindling Christian community.
Please join us in lifting up our Iraqi brothers and sisters in prayer to our Father, the God of all mercy. Pray that those mourning the loss of loved ones will be comforted, and that those who were injured will look to Jesus for physical and emotional healing. May the perpetrators behind these terrible attacks repent of their sins and seek to embrace Christ as Lord. Ask Him to shield and guard His precious children in this volatile part of the world from their enemies.
Please visit the Iraq Country Report to learn more about Iraq's persecuted church.