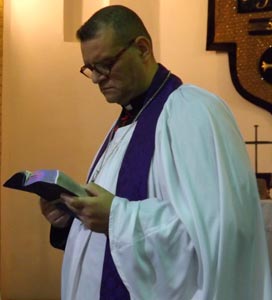 Canon Andrew White
Canon Andrew White, known as the "Vicar of Baghdad," has requested urgent prayer for the church in Iraq during this time of intense violence in the country. With frequent bombings and shootings in cities such as Baghdad and Mosul, monthly death tolls have soared recently. January's toll of more than 1,000 killed was the highest in almost six years.
Canon Andrew, a partner of The Voice of the Martyrs, recently shared that some of the young people at the church he leads have been among those tragically killed. His Christian friends are leaving and begging him to leave too.
"Hundreds of our people have left the church because they have left the country," he explains. "The hundreds left are those who cannot afford to leave, so the poverty and needs seem greater than ever. I honestly cannot tell you how terrible things are. We are in more than a desperate crisis. We need your prayers."
Yet Canon Andrew remains resolute. "I will not leave my people here, however bad it is," he says. "I am not leaving, and neither is God."
Trusting that God is indeed present and at work in Iraq, let us bring this country to Him in prayer. Pray that He will use Canon Andrew and other leaders like him to faithfully shepherd the dwindling Christian population. Through their example, may believers be encouraged to remain steadfast in their faith, despite the instability and the constant risks. May the church there be a vessel of God's peace, extending love to all their neighbours. Pray, too, for an end to the fighting and bloodshed in Iraq which have been mainly caused by tensions between Sunni militants and the Shia-dominated government.
To learn more about Canon Andrew's ministry and the powerful ways in which God is at work in Iraq, check out VOM's recent 18-minute documentary at this page.