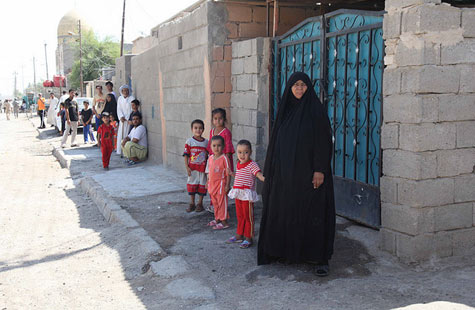 Pray that safety, strength and life-sustaining provision
be made available to the suffering people of Iraq.
Photo: Flickr / 17th Fires Brigade
As a ruthless militant group sweeps across the country and leaves devastation in its wake, Christians are urgently seeking prayer for their homeland. Militants from the Islamic State of Iraq and ash-Sham (ISIS), an extremely violent offshoot of al-Qaeda, have gained full control of Mosul.
Historically known as Nineveh, the city is the traditional heartland of Iraq's church. The vast majority of Christians there, up to 1,000 families, are said to have joined the exodus of around half a million residents fleeing the desolation. The army has also reportedly fled.
According to Canon Andrew White, a partner of VOMC, the situation is extremely volatile. "Things are so bad now in Iraq; the worst they have ever been. Most of our people come from Nineveh and still see that as their home. Now the Christian centre of Iraq has been totally ransacked. The tanks are moving into the Christian villages, destroying them and causing total carnage."
The concerned ministerial leader further explains that ISIS has "totally taken control, destroyed all government departments, allowed all prisoners out of the prisons, killed countless numbers of people...." The resulting devastation is heartbreaking, for he adds, "There are bodies all over the streets."
Hundreds of thousands of displaced Iraqis have fled to Kurdistan to escape this humanitarian crisis.
In the midst of such unimaginable suffering and chaos, let us bring this deplorable situation to the throne of our Almighty God, with the assurance that He is ultimately in control of this world. Pray that He will greatly use His people to extend peace and grace to those struggling and in pain. Ask Him to provide for the immediate needs of the many thousands of refugees, also granting long-term solutions that will lead to the country's peace and stability. Finally, pray that the militants who are waging this ruthless violence against the innocent will repent and come to faith in Jesus Christ.
To watch a short video on how ISIS is brutalizing believers in Iraq, please visit this page.