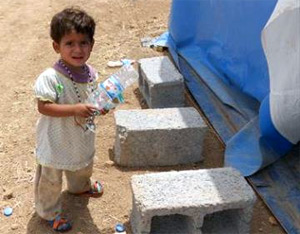 Little Iraqi girl plays by her family's tent
at a refugee camp near Erbil.
Photo: World Watch Monitor
Horror and chaos continue to abound in Iraq, as armed jihadists of the militant group "Islamic State" (IS, also referred to as ISIS) took over the country's largest Christian town, Qaraqosh, and nearby Christian settlements early on August 7th. Qaraqosh, a city of about 50,000 people in Nineveh Province, sits between Mosul and Erbil, the capital of the Kurdish region. IS took over Mosul in July, and many of the city's remaining Christians fled eastward to Qaraqosh, sometimes called the Christian capital of Iraq.
Tens of thousands have fled from Qaraqosh and surrounding areas, with many seeking refuge in Kurdish-controlled parts of the country. The militants now occupying Qaraqosh's churches have removed crosses and destroyed thousands of valuable manuscripts. "There are 100,000 displaced Christians who have fled with nothing but their clothes, some of them on foot, to reach the Kurdistan region," a Chaldean Patriarch explained. However, those who make it to Kurdistan often find themselves without shelter or even water in the blistering heat. Thousands of other minority groups have also been targeted by IS, including ethnic Yazidis.
Since their offensive attacks began in June, IS has ordered followers of Christianity residing in captured towns to either convert to Islam, pay a tax to remain in these communities as Christians, leave, or ultimately die. Unfortunately, believers apprehended by the militants have been ruthlessly attacked or killed. (For more information on the immense suffering many are facing in this country, visit this page.)
In the midst of a seemingly hopeless situation, pray that our Lord will bring deliverance and comfort to the many thousands who are now displaced. May all who are mourning the tragic loss of loved ones, and those traumatized by the terror of IS, be filled with Christ's peace and grace. Pray for wisdom for concerned world leaders as they discern how best to respond to IS and the overwhelming suffering that's taking place. May God also lead and direct church leaders in the country during this difficult time, giving them the daily strength needed to shepherd those in their spiritual care.