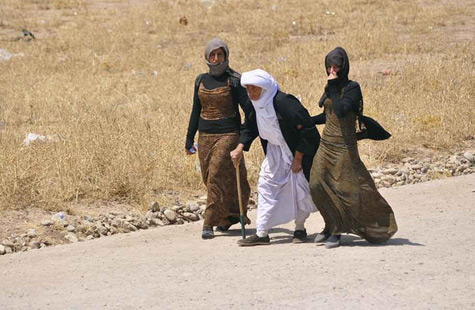 Many are fleeing by foot from the terror of ISIS.
Photo: Flickr / Domenico
Throughout northern Iraq and Syria, the militant group known as the Islamic State (IS or ISIS) has forced tens of thousands into a life without homes, jobs and family. While these refugees face an uncertain future, churches in the Kurdistan region are helping fill that void with help and hope. In particular, many of the churches in the city of Erbil have opened their doors to the multitudes fleeing the advance of ISIS.
"We wanted to show those people that we don't care if they are Christians, Yazidis or Muslims," Majeed Mohammed, a pastor in the area, explained. "They are human beings and they have been kicked out of their homes by ISIS. We want to show them that as Christians we love them...."
The long-term fate of the vast number of refugees remains one of the major questions in this urgent humanitarian crisis.
Praise God for Pastor Majeed and other 'Good Samaritans' like him who are opening up their churches, homes and hearts to the overwhelming number of refugees in dire need. Pray for continued provision so shelter and basic necessities can be made available to those in their care. May this fine example of love and service greatly encourage the faith of believers and serve as a bold witness to those who do not yet know Jesus Christ in a personal way. Pray also for long-term solutions for the thousands of refugees, so they may have the hope of a brighter future. May the hearts of the militants be touched as well, bringing an end to the atrocious violence in Iraq.