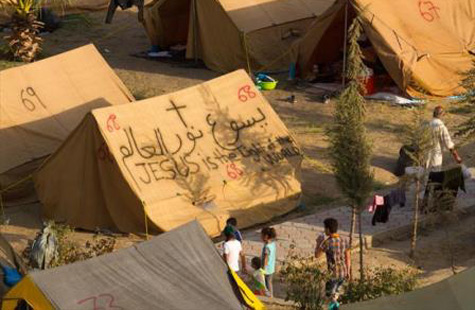 Some of the tents of the displaced families
who fled the violence of IS fighters.
Photo: World Watch Monitor


Our sister mission in the United States recently received urgent prayer requests from a church in the Kurdistan region of Iraq, with whom they are partnering to bring needed assistance to believers affected by the widespread violence in the area.
The Islamic militant group called "Islamic State" (formerly known as ISIS) has been seizing territory throughout Iraq in its attempt to set up an Islamic caliphate. In the cities and towns they conquer, the remaining Christians are given a stark ultimatum: convert to Islam, pay a tax to remain in the area, abandon their homes permanently, or be killed. The vast majority of these Christ-followers have fled for Kurdish-controlled areas, but even there they are far from safe due to the overcrowded living conditions, lack of adequate resources, and risk of life-threatening illness.
Please pray that churches in the Kurdistan region will be equipped to meet the tremendous spiritual and physical needs of those fleeing to this area. Pray, too, for a greater unity among the various congregations there. Additionally, ask that the Holy Spirit will move throughout this crisis -- impacting the region, country and the entire Middle East to achieve God's greater purposes. Lift up in prayer the militants perpetrating these horrific crimes, asking that there be confusion and disagreement within their ranks so that all plans of evil and violence may cease. Pray also that the militant group's financial resources will be effectively cut off. Finally, ask God to grant wisdom to the government officials of the Kurdistan region as they work diligently to govern amid this crisis and defend the region.