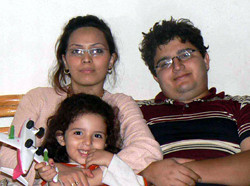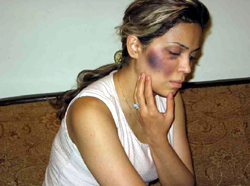 Makan Arya, Tina Rad and their four-year-old daughter
Photos from
Compass Direct
On June 3, a newly converted Christian couple was arrested by police for holding Bible studies with Muslims in their home and attending a house church, according to a June 25 report from Compass Direct. Makan Arya (31) and Tina Rad (28) were seized from their home in east Tehran after one of Makan's relatives informed security police of the couple's Christian activities. Their four-year-old daughter was left behind, ill and unattended. The couple was taken to an unknown jail where they were severely beaten and interrogated for four days. Makan was accused of "activities against national security" and Tina of "activities against the holy religion of Islam." The authorities threatened to take their daughter away to a religious institution and warned them that they could be imprisoned on charges of apostasy or fabricated drug charges if they didn't stop their Christian work.
Eventually the couple was pressured into signing a statement claiming they had not changed their religion from Islam and promising that they would stay away from their house church and other Christians. After a court hearing, Makan was freed on bail charges of $20,000 (CAD) and Tina upon payment of $30,000 (CAD). The couple returned home to find that the window of their shop had been smashed by local Muslims. On June 23, Makan received a letter threatening him with continued attacks if he did not put up evidence of his Islamic faith on the front of his shop, to which he responded by hanging pictures of Muslim leaders on his window.
Ask God to strengthen the hearts of these believers to proclaim His Name without hesitation or fear (2 Timothy 1:5). Pray for healing, especially for Tina who currently cannot walk as a result of her mistreatment in detention.
For more information on the persecution of Christians in Iran, go to the Iran Country Report.