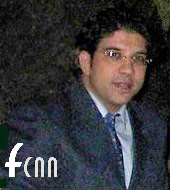 Ramtin Soodmand
Photo from FCNN
An Iranian Christian, Ramtin Soodmand, was recently charged with promoting anti-government propaganda. Ramtin, who was arrested on August 21, was permitted short phone calls to his wife throughout September, but has recently been placed in solitary confinement.
The charge against Ramtin has sparked concern that he may be tried under a draft law currently under review by the Council of Guardians that proposes a mandatory death penalty for apostasy (click here for more information). Ramtin's father, Pastor Hussein Soodmand, was the last man in Iran to be executed for apostasy in 1990.
Pray for the Soodmand family as another of their loved ones faces trial and hardship for Christ's sake. Pray that Ramtin will be released and the charges against him dropped.
Learn more about the persecution of Iran's Christians by visiting the Iran Country Report.