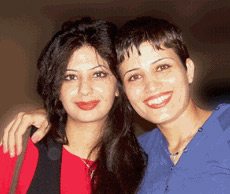 There have been significant developments in the past week regarding Maryam Rustampoor (27) and Marzieh Amirizadeh (30), who have been imprisoned in Tehran, Iran for their Christian faith since March. When the women were brought before the Revolutionary Court in early August and ordered to recant their faith, they refused and were sent back to prison (
click here
for more details).
On October 7, Maryam and Marzieh were unexpectedly taken back to the Revolutionary Court and three charges were brought against them: anti-state activity, propagation of Christianity, and apostasy (i.e. leaving Islam). The judge then acquitted them of the charge of anti-state activity. Because this charge has been dropped, their case will now be transferred to a general court where the other charges will be considered.
Continue to pray for Maryam and Marzieh as they are now back in prison, awaiting their next hearing. Pray for their health as they have been denied proper medical treatment apart from care Maryam received for severe food poisoning. Pray that they will continue to shine the light of Christ among their fellow prisoners. Pray that all charges will be dropped and that they will be released soon.
To learn more about the ongoing persecution of believers in Iran, click here.