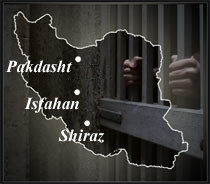 Seven Christians, six of whom are converts from Islam, have been detained since their arrests in the city of Shiraz, Iran on January 11. The believers have reportedly been offered release on bail; however, the bail for each of them is equivalent to approximately $30,000 CAD.
Elsewhere in the country, three Iranian Christians remain in detention after they were arrested by security forces in Pakdasht on December 24 (for more, click here). A few days later, the sister of one of the three detained Christians was also arrested in the city of Isfahan along with another Christian convert from Islam. All of those detained are reportedly being denied family visits and access to legal representation. (Source: Middle East Concern)
Pray for the release of these Christians. Pray that they will come into a deeper relationship with Christ as they embrace the fellowship of His sufferings (Philippians 3:7-10). Pray that the Lord will give strength and encouragement to their families.
Learn more about how Christians are persecuted in Iran by visiting the Iran Country Report.