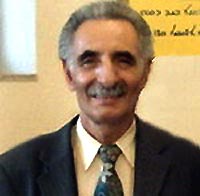 Rev. Wilson Issavi
Photo from FCNN
Rev. Wilson Issavi (65), an Assyrian pastor who was arrested on February 2 and accused of "converting Muslims" (click here for more information), has been released from prison on bail and is awaiting trial. Rev. Issavi was released from Dastgard prison in Isfahan sometime between March 28 and March 30. Along with the accusation of "converting Muslims," the pastor was charged with not co-operating with police, presumably for continuing to hold house meetings after police sealed the Evangelical Church of Kermanshah and ordered him not to reopen it. While in prison, Rev. Issavi was reportedly tortured and threatened with execution. He also allegedly contracted a life-threatening infection from his filthy confinement cell.
Elsewhere, three Christians arrested on December 24, 2009 have been released. Maryam Jalili, Mitra Zahmati, and Farzan Matin were initially arrested along with 12 other Christians at a home in Varamin (click here for more). Maryam, Mitra, and Farzan were freed on March 17, though the terms of their release were unclear at last report. (Sources: Compass Direct, Farsi Christian News Network)
Praise the Lord that these believers have been released from prison. Pray that they will continue to serve Christ boldly. Pray for other Christians in Iran who are imprisoned because of their faith.
To find out more about the persecution Christians face in Iran, go to the Iran Country Report.